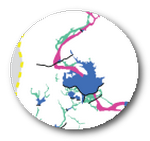 All of the 37 sites reported in Baretlt (2021) are packaged into riverscapes projects
, which can be viewed in the Web Riverscapes Viewer, or Riverscapes Viewers in your GIS. You will need a free Riverscapes Consortium account to view.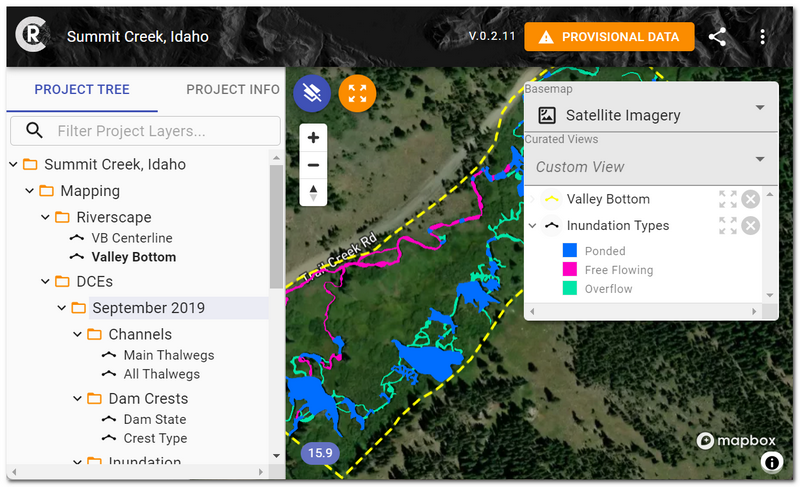 Example of a RIM project (Summit Creek, Idaho) visualized in web Riverscapes Viewer. The project can also be downloaded and used in desktop GIS with QRV and ArcRV.
Site ID
Site Name
HUC 8 ID
HUC 8 Name
Riverscapes Project URL (direct link to web Riverscapes Viewer)
 
 
 
 
 
beaver_creek_wy
Beaver Creek, Wyoming
10080002
Little Wind
View or Download Project
in Riverscapes Viewer
twin_creek_wy
Twin Creek, Wyoming
10080003
Popo Agie
View or Download Project
in Riverscapes Viewer
mill_creek
Mill Creek, Utah
16010101
Upper Bear
View or Download Project
in Riverscapes Viewer
beaver_creek_a
Beaver Creek A, Utah
16010203
Little Bear-Logan
View or Download Project
in Riverscapes Viewer
beaver_creek_b
Beaver Creek B, Utah
16010203
Little Bear-Logan
View or Download Project
in Riverscapes Viewer
pole_hollow
Pole Hollow, Utah
16010203
Little Bear-Logan
View or Download Project
in Riverscapes Viewer
RH_fork_a
Right Hand Fork A, Utah
16010203
Little Bear-Logan
View or Download Project
in Riverscapes Viewer
RH_fork_a
Right Hand Fork A (2), Utah
16010203
Little Bear-Logan
View or Download Project
in Riverscapes Viewer
RH_fork_mid
Right Hand Fork mid, Utah
16010203
Little Bear-Logan
View or Download Project
in Riverscapes Viewer
rock_creek_low
Rock Creek, Utah
16010203
Little Bear-Logan
View or Download Project
in Riverscapes Viewer
spawn_c
Spawn Creek C, Utah
16010203
Little Bear-Logan
View or Download Project
in Riverscapes Viewer
temple_a
Temple Fork A, Utah
16010203
Little Bear-Logan
View or Download Project
in Riverscapes Viewer
temple_b
Temple Fork B, Utah
16010203
Little Bear-Logan
View or Download Project
in Riverscapes Viewer
kane_creek
Kane Creek, Utah
17040218
Big Lost
View or Download Project
in Riverscapes Viewer
summit_creek
Summit Creek, Idaho
17040218
Big Lost
View or Download Project
in Riverscapes Viewer
salmon_river
Salmon River, Idaho
17060201
Upper Salmon
View or Download Project
in Riverscapes Viewer
murderers_a
Murderers Creek, Oregon
17070201
Upper John Day
View or Download Project
in Riverscapes Viewer
lower_owens
Lower Owens, Bridge Creek, Oregon
17070204
Lower John Day
View or Download Project
in Riverscapes Viewer
franklin_basin
Logan River, Franklin Basin, Utah
16010203
Little Bear-Logan
View or Download Project
in Riverscapes Viewer
ditch_creek
Ditch Creek, Wyoming
17040101
Snake Headwaters
View or Download Project
in Riverscapes Viewer
NF_spread_a
North Fork Spread Creek, Wyoming
17040101
Snake Headwaters
View or Download Project
in Riverscapes Viewer
pacific_creek_b
Pacific Creek B, Wyoming
17040101
Snake Headwaters
View or Download Project
in Riverscapes Viewer
pilgrim_creek_a
Pilgrim Creek A, Wyoming
17040101
Snake Headwaters
View or Download Project
in Riverscapes Viewer
SF_spread_a
South Fork Spread Creek A, Wyoming
17040101
Snake Headwaters
View or Download Project
in Riverscapes Viewer
SF_spread_b
South Fork Spread Creek B, Wyoming
17040101
Snake Headwaters
View or Download Project
in Riverscapes Viewer
SF_spread_c
South Fork Spread Creek C, Wyoming
17040101
Snake Headwaters
View or Download Project
in Riverscapes Viewer
big_wood_b
Big Wood, Idaho
17040219
Big Wood
View or Download Project
in Riverscapes Viewer
trail_creek
Trail Creek, Idaho
17040219
Big Wood
View or Download Project
in Riverscapes Viewer
birch_saw
Tributary to Birch Creek, Idaho
16010202
Middle Bear
View or Download Project
in Riverscapes Viewer
boss_canyon
Boss Canyon, Utah
16010203
Little Bear-Logan
View or Download Project
in Riverscapes Viewer
hodges_creek
Hodges Creek, Utah
16010203
Little Bear-Logan
View or Download Project
in Riverscapes Viewer
little_bear_low
Lower Little Bear Creek, Utah
16010203
Little Bear-Logan
View or Download Project
in Riverscapes Viewer
little_bear_up
Upper Little Bear Creek, Utah
16010203
Little Bear-Logan
View or Download Project
in Riverscapes Viewer
spawn_a
Spawn Creek A, Utah
16010203
Little Bear-Logan
View or Download Project
in Riverscapes Viewer
spawn_trib
Tributary to Spawn Creek, Utah
16010203
Little Bear-Logan
View or Download Project
in Riverscapes Viewer
temple_trib_a
Tributary A to Temple Fork, Utah
16010203
Little Bear-Logan
View or Download Project
in Riverscapes Viewer
temple_trib_b
Tributary B to Temple Fork, Utah
16010203
Little Bear-Logan
View or Download Project
in Riverscapes Viewer
temple_woody
Upper Temple Fork, Utah
16010203
Little Bear-Logan
View or Download Project
in Riverscapes Viewer
References
Bartelt K. 2021. Valley Bottom Inundation Patterns in Beaver-Modified Streams: A Potential Proxy for Hydrologic Inefficiency, Masters Thesis, Utah State University: Logan, UT. Available from: https://digitalcommons.usu.edu/etd/8226